The cost of hiring an accounting firm can vary depending on the size of your business and the kind of services you're looking for. You can choose to hire a firm for simple bookkeeping, which is keeping a record of expenses and profits for compliance purposes or hire a firm for full-fledged accounting services which include audits and financial reports.
How Much Does An Accountant Cost in Canada?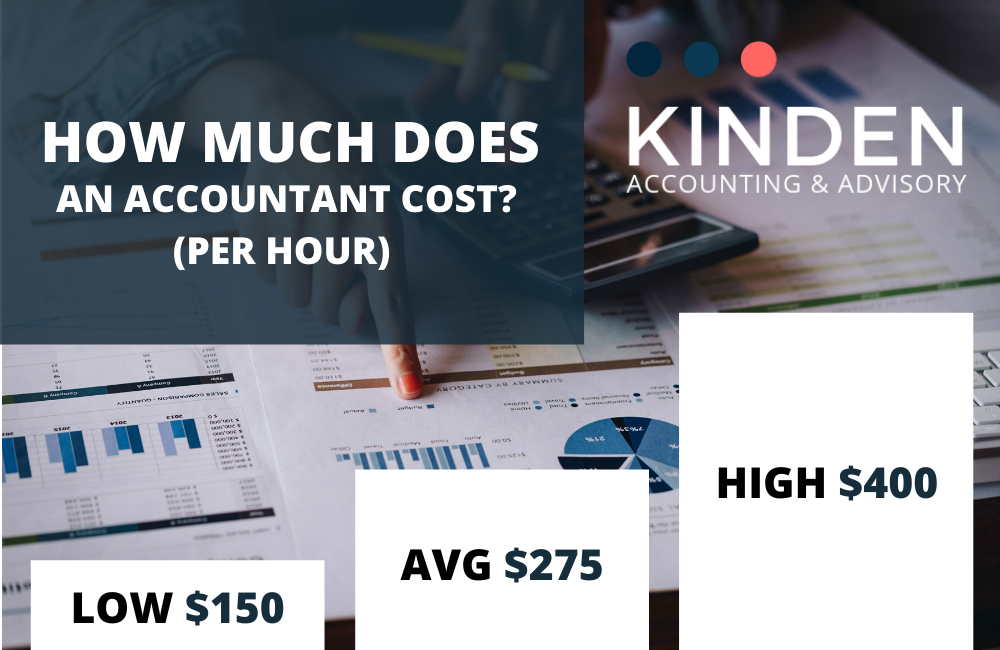 According to Olympiabenefits, The average hourly accountant cost is $275, with a typical range between $150 and $400+ per hour, based on the different variables above. This is the typical range you can expect when it comes to small business accounting fees.
How Much Does A CPA Cost?
A CPA is not the same as an accountant. Typically, an accountant has achieved a bachelor's degree in accounting. A CPA, or Certified Public Accountant, is a designation earned after completing specific educational and work requirements and passing an exam. This means there are typically more costs related to the fees. Also, the years of experience can also play a role in how much a CPA charges.

How Much Does A Bookkeeper Cost?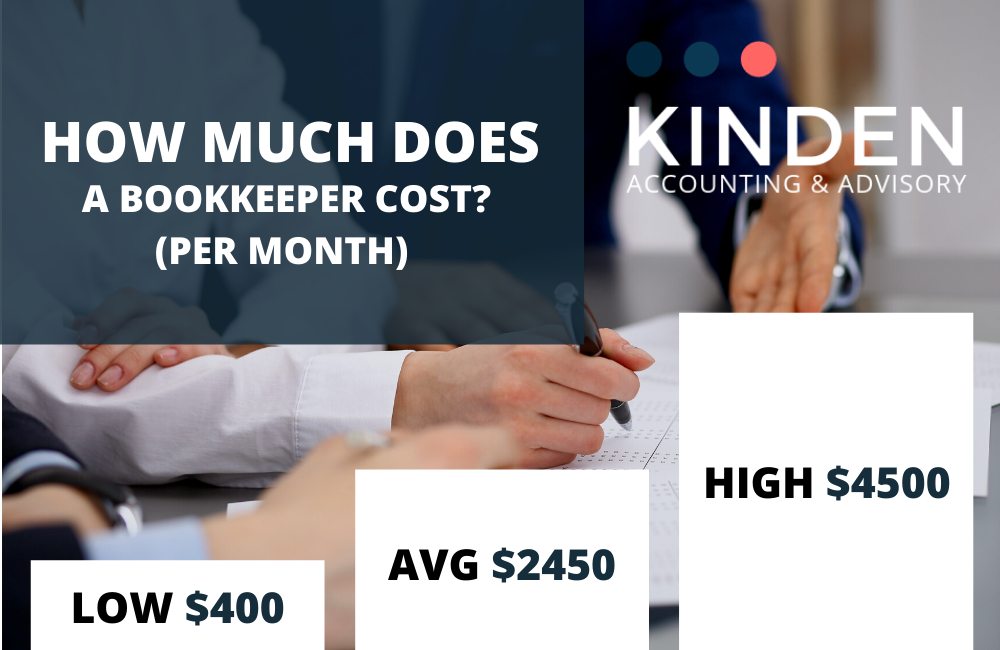 Bookkeeping services cost range is quite wide, but the price would depend on several factors, including the type of business you run, the number of transactions that need to keep track of, and the complexity of the services required. Any reputable firm will allow you to make variations to the services on the basis of your needs and adjust their monthly fee accordingly. The price can also vary depending on whether the bookkeeper is in-house, or outsourced.
According to Growthforce, part-time in-house bookkeeper rates can cost $400 per month on the low end, and upwards of $4500 per month on the high end, and typically averages to about $2450. You must then consider the additional costs that could be related to such a hire internally, such as the benefits, bonuses, office equipment, and anything else that would normal for a typical hire in your company.
How Much Does a Tax Accountant Cost?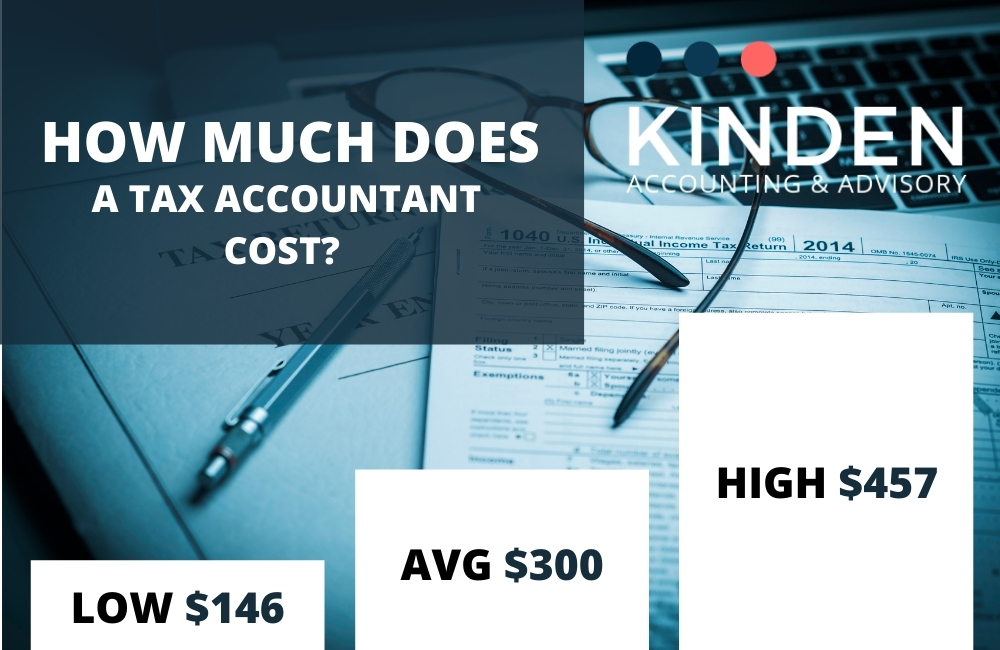 One of the most common questions we see is how much will an accountant cost to do my small business taxes? Well, according to Investopedia the average cost of hiring a tax professional ranges from $146 to $457. This can also vary based on your situation and what tax forms you are required to file for your business. The average cost of tax preparation for small businesses is $300.
How Much Are Corporation Tax Accountant Fees?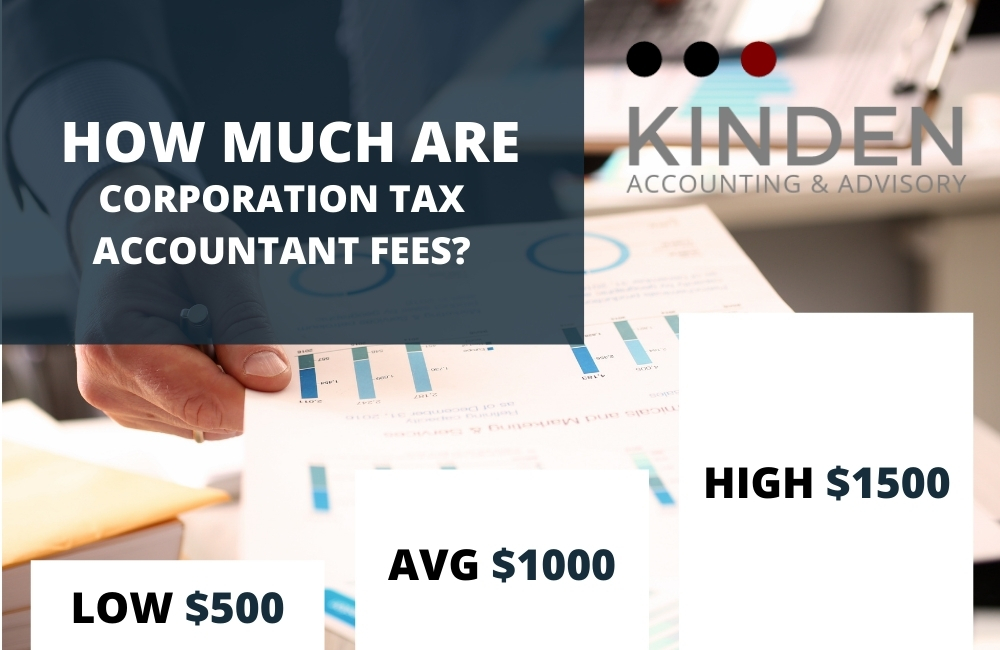 According to Accounting Vancouver, In most of the corporate cases, the cost is going to be between $500-$1500 range. Depending on the size of the corporation in question, the larger and more complex projects would likely see a starting point of $90/per hour.
How Much Does An Online Accounting Firm Cost?
Now imagine, taking that expert-level knowledge and advice from certified CPAs, and adding in the functions of your typical Bookkeeper. Not only are you saving time, dealing with one entity rather than a couple, but your reduction in expenses is going to be substantial. That is why at Kinden Accounting & Advisory Services, we strive to help small businesses overcome the normal headaches surrounding everything related to your companies financials. Our pricing model is designed to streamline this process and keep more money in your pockets, every month.
What are the Benefits of Outsourcing Your Accounting Needs?
We live in a time when financial transparency and compliance has become paramount. With the financial crisis of 2008, embezzlement, and tax evasion cases we have all heard of over the years, regulators and the public alike demand that businesses place a priority on financial compliance. As such, businesses are making changes to their governance models to place importance on financial responsibility and transparency, along with compliance with all tax-related matters.
One way of doing so was for businesses to invest more money and manpower in their accounting departments, and to hire top talent to minimize errors and put the right checks and balances in place. Another approach has been for companies to outsource their entire accounting function to an accounting firm or service provider.
The outsourcing approach does have its advantages, and we'll be discussing them in a bit more detail today, along with what you can expect when it comes to pricing for such services.
You'll Save a Lot of Time and Effort
This is the foremost advantage of hiring the services of an accounting firm. Regardless of the type of business you run, outsourcing your accounting function is bound to save you a significant amount of time and effort.
If you run a small business and you manage accounting and payroll yourself, outsourcing saves you time, which you can use to manage other aspects of your business. More importantly, accounting and bookkeeping aren't trivial. They are core aspects to running a business of any size. If you're busy managing your business, then your accounting and bookkeeping will most likely fall behind.
Alternatively, if you have a large company with an accounting department consisting of 5 employees, outsourcing the accounting function would mean you have 5 fewer employees to manage. Managing employees is not an easy task and is time-consuming, so if you have fewer employees, your company can divert time and resources to building the business instead. We touch upon this in more detail on another article "5 Problems Solved by Online Accounting Firms".
You Save Money
This is an advantage that small and large companies can benefit from. It is costly to have employees; salaries, benefits, insurance premiums, management, conflict resolution, and process management are just some things that come with an in-house accounting department. Outsourcing removes all of these concerns, allowing you to focus on managing your operation instead.
You Reduce Risks
As mentioned above, accounting and bookkeeping isn't really a DIY sort of task, especially if your business grows or is already a large business. If you're a small business owner and you handle your bookkeeping yourself, the smallest mistake could have you in trouble with CRA. If you're a large company, then you'll also need to deal with public backlash and regulators would also have more of an incentive to come after you. Check out our latest blog "4 Reasons You Should Hire a Bookkeeper For Your Business to get a better in-depth understanding of the benefits a bookkeeper can provide.
Hiring a firm of professional accountants, who live and breathe accounting, would help in minimizing all of these risks. These individuals are professionally trained and are certified to carry out their job at an industry standard, which tends to be quite high given today's economic climate. They also have a fiduciary duty towards the business, rather than any given employee of the business. As such, they would be much better suited to carry out the task than a manager of a business or a layman.
Moreover, by outsourcing, the accounting firm takes on the responsibility to ensure that all bookkeeping and accounting will be in order and in accordance with the law. The fiduciary duty of the firm also removes any conflict of interest as the accounting firm has no vested interest other than its fee and ensuring that it completes its job based on d industry standards.
Conclusion
As you can see, the benefits of outsourcing your accounting function to an accounting firm speak for themselves. If you have an avenue available to you which will reduce your costs, allow you more time to focus on running your business, and reduce your risk in the process, then why not consider it for yourself.
The peace of mind that comes with a financially compliant business is priceless and one feels a sense of pride if they can say that their business is fully compliant. Of course, it will also help with customers as they could rest assured knowing they are working with a business that is financially responsible and accountable.
If you are looking for expert online accountants in Halifax, ours at Kinden CPA have got you covered. We aim to make top-tier online accounting services accessible to SMEs in Atlantic Canada!